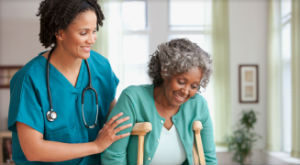 In today's time, it is not a surprise to see many progressive health care professionals encouraging people to get out nursing facilities and hospitals and just stay at home with their family members while they recover from an illness or injury. On the other hand, insurance companies are also pressuring hospitals to release their patients as soon as possible because the longer that these patients receive care, it be a lot less variety at home.
As a response to these two, there comes the rise of so many health care agencies today. The likeness of finding such agency in your area is increasing in each passing day. The majority of them provide care to patients who are not anymore in need of a high-level care from hospitals, but are still required to do rehabilitative therapy or part-time nursing. Given this, it is important to know the scope and limitations of a Medicare.
When can it cover home health care?
In order to be covered by Medicare, you must meet the following requirements:
Home health care must be prescribed by a physician.
Part-time skilled nursing care, speech and/or occupational therapy must be required.
A Medicare-approved agency should approve home health care.
A physician should set up a plan and cooperate with the home health care agency.
A person must be confined at home by an illness, injury, or other medical conditions.
In some cases, Medicare may require that the condition of the patient is expected to improve with the help of a home health care.
What will it pay for?
Medicare will pay in full for the following home health care related services:
Occupational therapy and/or speech therapy
Physical therapy
Part-time skilled nursing care (2-3 visits in a week depending on the plan certified by the assigned physician)
If you are receiving one of the above-mentioned home health care services, Medicare can also pay for the following:
Medical social services
Medical supplies and equipment (walker, hospital bed, respiratory equipment, etc.)
Personal care provided by part-time health care aides
What are its limitations?
There are several services that Medicare will not pay for such as the following:
Nursing care (full-time)
Housekeeping services
Delivered meals at patient's home
Biologicals and drugs that are administered at home, and
Personal care from part-time health aides (if this is the only care that is needed by the patient)
In case you need other medical equipment such as a wheelchair, Medicare will pay 80% of the cost as part of your home care.
If you have been in a hospital for some time and interested in home health care, be sure to contact a home health care agency that is recommended by the hospital discharge planner of your doctor. You may also ask the discharge planner to contact one for you. With this, you can rest assured that you will be in good hands and you would be able to receive the right benefits that you signed up for.
It's important to learn the ins and outs of the Medicare system and it can be confusing. That's why I dedicate my entire practice to just Medicare. Please contact me and I'll be happy to go over your options with you.