There are 4 ways to enroll and sign up for a Medicare health plan and it's easy and convenient.. Below are the 4 ways to enroll:
Go to the company's website. You will need your Medicare card handy.  You will need to put in your Medicare claim number along with the effective, or start dates for parts A and B.  You will need to answer additional questions as well.
Do the application over the phone. Once again you will need your Medicare card handy for the reason listed above.  The application questions will have to be answered over the phone.  This will be communicated to you. This process takes on average 30 to 40 minutes to complete. If you have questions, it will take longer.
Call Medicare directly.  If you choose this option, make sure you know the plan inside and out, The person you are speaking to, from Medicare, may not even be in the same part of the country you are, no less county.  They will probably be able answer very general questions and but will not know many of the specifics.
Work with a Health Insurance Agent.  Find an agent certified and appointed to offer Medicare health plans you are interested in.  You can make an appointment with the agent and they will go over the plan specifics and they can enroll you in the plan of your choice.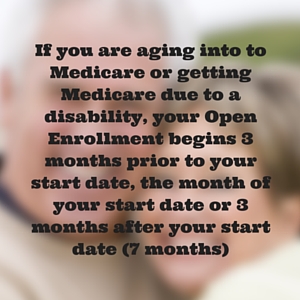 When it comes time to enroll you will have a number of choices. Choose the one you are most comfortable with.  No matter how you sign up, make sure you have a firm understanding of the contract and do not be afraid to ask questions.
There are certain times of the year to enroll in either Medicare Advantage Plans(MAPD) and Part D Prescription Drug Plans.
If you are aging into to Medicare or getting Medicare due to a disability, your Open Enrollment begins 3 months prior to your start date, the month of your start date or 3 months after your start date (7 months) During this time you can select either a Part D drug plan or a Medicare Advantage Plan.
People who would like to change their Medicare Advantage or Part D coverage can do so in the Medicare Open Enrollment Period, also referred to as AEP (Annual Election Period). This runs from October 15 through December 7 of each year. This gives you 7 weeks to make your decision. You can change your mind as many times as you want during this period.  The plan that you are enrolled in on December 7, is the plan that will go into effect on January 1.
There are other times throughout the year that people are allowed to enroll in Medicare Advantage or Part D coverage. This is referred to as "Special Election Periods".  Below are some of the most common Special Election Periods.
Just moved to the area.   If you recently moved outside of the service area for my current plan or recently moved and this plan would be a new option for me. You have 60 days to select a new plan or to make a plan change.
Loss of group health insurance through an employer. You have 63 days from time you lose benefits to make a decision on coverage
Turning 65 but have been on Medicare due to a disability. When you turn 65 are eligible for another open enrollment to make decisions on your healthcare options.  This period will run the 3 months' prior, the month of and 3 months after you turn 65.
Have both Medicare and Medicaid or the State of Florida pays your Part B Premium. You can change your Medicare Advantage Plan or Part D drug plan each month, if you wish. You are not locked in. This is very important to know.
For those of you selecting Medicare supplement coverage these enrollment period do not apply. A person may change their Medicare Supplemental coverage each month, if they wish.
The manner in which to enroll for this type of coverage would be the same, as listed above with one difference.  You cannot enroll in a Medicare Supplement through Medicare